What is an entrepreneur?
An entrepreneur is someone who seeks out new opportunities and creates an enterprise.  Entrepreneurs create jobs, take risk and look to make profit.
An entrepreneur is someone with a passion to change something for the better and the vision to make it a reality. It's not all about money but it is generally the end result and the freedom that it creates.
Are you unable to settle for the status quo, which is generally found in the security of job?  Are you more happy to be building someone else's business. If you have considered starting your own business and becoming an entrepreneur be prepared to risk it all.
I have been an entrepreneur since an early age and tried many different business ventures before settling as an Internet, media based entrepreneur. Today most of my ventures and projects are based online, require a website, some basic coding, effective email marketing, maybe a mobile app and so on.
Early on in my entrepreneurial life one of my first successful ventures was a simple seasonal sign writing business, painting stenciled Christmas messages on retail windows across multiple cities in New Zealand.
I left my job working in a retail shop, and took all the money I had left to create all the stencils, buy spray paint, develop a portfolio of photos to sell from. After testing the market for pricing I built a team of 6 staff all on commission and we hit the streets. The rest is history as they say but if I did not have the drive to make it happen, if I did not have the vision of profitable little business it might never have happened.  We worked hard and made it happen.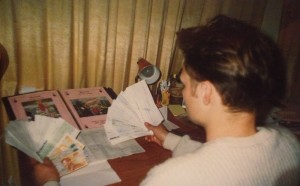 Every year I would earn a years income in a few months from November to December.  I had built it until eventually we had 450 retail customers in 5 cities who booked every year and employed.  We mostly students to do the work. In the third year of the business, in the middle of completing my media degree I was starting to get burned out with all the work load of assignments and the business so I sold it the following year.
To this day I still have the stencils in the garage if I ever feel the need to make some extra Christmas income.
Do you still want to be an entrepreneur? Take some risk, be different and build your desired lifestyle? I encourage you to take some steps, and I will be updating this post with useful free resources, but to get you started here is a great video –
What is an entrepreneur? from Seedcamp on Vimeo.